The importance of booking appointments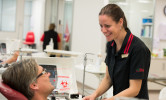 We work hard at the New Zealand Blood Service (NZBS) to ensure that every blood donation goes to a patient in need, and to do so requires careful planning and forecasting.
Knowing exactly how many appointments are scheduled in the system for each day is essential in helping us forecast what we can expect to collect on a daily and weekly basis. . Through our appointment system, we can see how many donors are scheduled to donate, what blood groups they are and the time and date they're booked. That, along with a range of other data that includes blood stock levels, provides us with information that will help us understand how much more is required and what specific blood groups are needed to help us to meet clinical demand. This is why making an appointment to donate is so important. If we collect more than we need, your donation could go to waste.
Every day we analyse the number of donors who have made appointments based on their blood type, location and type of donation being made (whole blood, plasma or platelets).
The clinical demand for specific blood types and blood products is very important as this determines what type of donation we need to collect. For example, some plasma donors will donate plasma that is manufactured into blood products such as Intragam P to support patients who have low immunity, or who need antibodies to protect them against certain diseases; others will donate whole blood that will be separated into different components to help several patients.
Our Donor Centres give donors with appointments priority over those without appointments. The appointment time is when we expect the donor to arrive – rather than the time they are scheduled to be in the interview room or on the donation bed.
Donors can choose a specific day and time that fits their schedule and if something does happen to come up, they can contact us to reschedule.
We know our donors' time is precious and we do our best to honour the appointment times, however there are occasions when we may experience situations beyond our control (so if there are delays, we will inform the donor when they arrive).
If our donors are late to an appointment or if a donor decides to drop in, we will do our best to accommodate them if space is available. However to ensure a smooth flow, we ask that donors arrive on time for their appointments and if they have just dropped in (and we have enough of their blood type for the week), to ensure their donation is not wasted we may ask them to book an appointment for another time.
To book an appointment to donate, click here or phone 0800 GIVE BLOOD.
Cancellations:
Please call us if you need to cancel your appointment. We'd be more than happy to rebook a more convenient time. In addition, by rebooking, you are helping us to fill our original time slot with another donor who has the same blood group as you. If you can't make your appointment please notify us as soon as possible by calling 0800 448 325, or if you are a plasma or platelet donor, please call your apheresis coordinator on the numbers below:
Epsom 09 523 6482
Hamilton 07 839 9893
Palmerston North 06 350 8563
Wellington 04 380 2243
Christchurch 03 343 9081
Dunedin 03 477 9920